19.01.2022
Orbis Systems Celebrates A Decade of Knowledge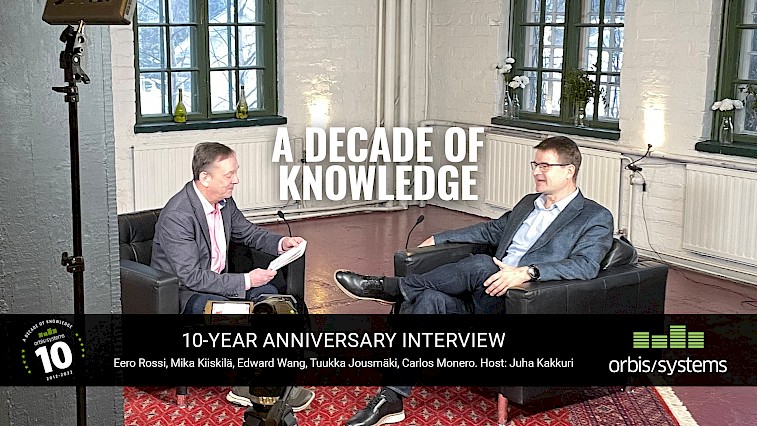 2022 marks a milestone in Orbis Systems' history as the company is celebrating its 10-year anniversary. During the course of its first decade in a rapidly evolving industry, the company has learned to rely on its core strengths of speed, flexibility and customer intimacy.

Ever since being established as its own company in 2012, Orbis Systems' journey has coincided with the major developments in the relatively new and rapidly evolving telecom industry. "We have been a strategic testing partner and test system provider to some of the leading telecom industry companies for over 20 years. With all the fast changes that have occurred in the mobile phone business and technology over the years, the introduction of 4G to name just one example, it's no surprise that we have renewed our entire portfolio since the early days", says CEO Eero Rossi. Headlined A Decade of Knowledge, Orbis Systems' anniversary year 2022 is expected to bring about a large-scale 5G ramp-up, with further advances in technology and investments as well as production 5G. Despite challenges caused by component availability issues and the ever ongoing COVID-19 pandemic, the company is firmly directing its attention on the anniversary year's chosen focus areas of technological innovation, expanding global presence and sustainability.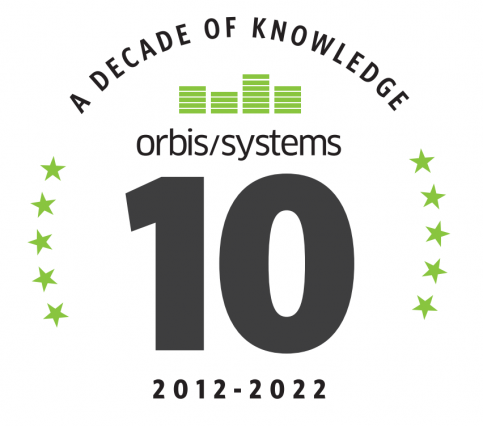 Innovative Technology Provider with One Eye on 6G
When it comes to developing innovative new technologies, Orbis Systems' R&D Manager Mika Kiiskilä emphasizes the importance of continuous customer communication. "Typically, the test environment that the customer needs does not exist yet, so we openly discuss the specific challenges and needs and build the solution together", he describes the company's close partnership with its customers. Even though 5G is in many ways only just ramping up, Orbis Systems' R&D already has one eye firmly on 6G, which is currently in research phase. "There are still a lot of uncertainties around 6G, such as what will be the key customer application", Kiiskilä explains. "However, it is clear that a higher data rate means higher frequencies and a wider bandwidth. We currently estimate that more extensive demand for 6G test systems might occur already in 2028."

Clips from the upcoming anniversary video:
10-year Anniversary Interview: Lessons from the First Decade of Knowledge with CEO Eero Rossi
10-year Anniversary Interview: Envisioning 6G with R&D Manager Mika Kiiskilä

Global Presence Ensures Customer Intimacy and Facilitates Sustainability
Building a global presence close to its customers has been a vital part of Orbis Systems' strategy for years. "We have always worked with global companies, so we understand the importance of speaking the same language with the customer and recognizing differences in local decision-making cultures", explains CEO Eero Rossi. Being close to the customer also contributes to sustainability, one of today's most pressing issues within the wireless telecom industry. "We are aiming to set up local supply chains on a global scale so that if a solution is needed in a certain region, we can build it there without having to ship components from halfway across the world", he describes. In addition to optimizing resources through effective SCM and logistics, Orbis Systems' sustainability procedures include following strict material and vendor guidelines as well as demanding specific standards from its own partners.

Towards the Next Decade of Knowledge
Looking beyond the anniversary year, CEO Eero Rossi expects the next couple of years to introduce trends like evolving 5G standards, the development of ORAN and private sector networks built around 5G as well as higher levels of automation and robotics. In addition to being committed to the continuous development of its technologies and competencies, Orbis Systems' game plan is to simultaneously stick to the key lesson from the company's first decade of knowledge; the importance of flexibility and speed. "Being flexible is one of our main competitive advantages. We aim to understand our strengths and know exactly where we can help our customers, so our R&D is very customer-specific. Also, our customers really value our local presence, which brings them many benefits", CEO Eero Rossi says. "You really need to be fast, so instead of planning and preparing for years, you have to be able to make to quick decisions and just go ahead and take risks. That also means prioritizing and focusing your efforts instead of running after every opportunity that comes your way", Rossi describes the company's approach.