5G Sub 6 GHz OTA Chamber
5G OTA chambers provide compatibility to execute software and initial RF verification testing. Pre-installed automated device under test (DUT) position controller and measurement antenna positioner are compatible with standard REST API SW interface.
The anechoic chamber is built into a 20-foot container lined with absorbers. The chamber is isolated and ventilated with accessories. The automated DUT rotation angle limit is ± 90 degrees, and ± 30 degrees tilt, while the measurement antenna can be positioned automatically along the Y-axis and manually along the Z-axis.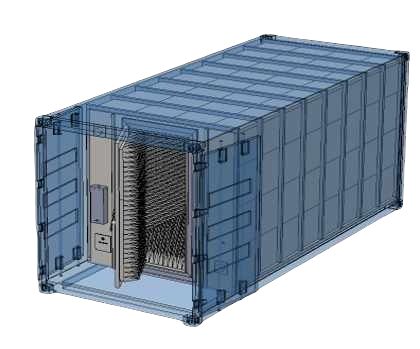 Hardware:
Chamber weight: 2600 kg
Chamber outer dimensions (HxWxD): 2590 x 2440 x 6050 mm
Built-in anechoic chamber - free space (HxWxD): 1820 x 1740 x 4920 mm
Max measurement distance: 2860 mm
Interfaces:
AC, DC, RF connections
Data with different options

All specifications of our standard products can be adjusted according to customers' needs.
If you wish to receive more information, please contact us by filling out our Contact Form!