5G Antenna Positioning System
Orbis Systems' turnkey solution for 5G active antenna testing
Orbis Systems presents two different standard 5G Antenna Positioners; one for the 5G Sub 6 GHz OTA Chamber and a smaller one for the 5G mmWave OTA Chamber. Orbis Systems also offers a turnkey solution which includes the 5G OTA chamber complete with the necessary interfaces and accessories, positioner system with antenna positioner, DUT positioner, and calibration package.
5G Antenna Positioning System
The antenna positioner has three axes; measurement antenna height, measurement distance and antenna polarization, which can be adjusted. The position of each one of the axes can be read real-time through Ethernet interface (REST API). Each positioner axes has an absolute position sensor and it will not lose position during power shutdown, so additional scales or rulers are not needed. The zero/home positions are calibrated during installation.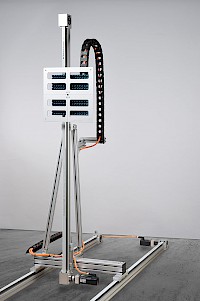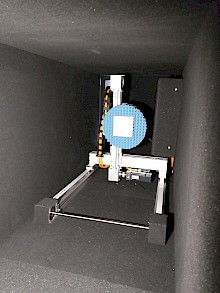 All specifications of our standard products can be adjusted according to customers' needs.
If you wish to receive more information, please contact us by filling out our Contact Form!