17.11.2020
Orbis Systems presented its unique OTA and WFS technology at IME 2020 Shanghai
.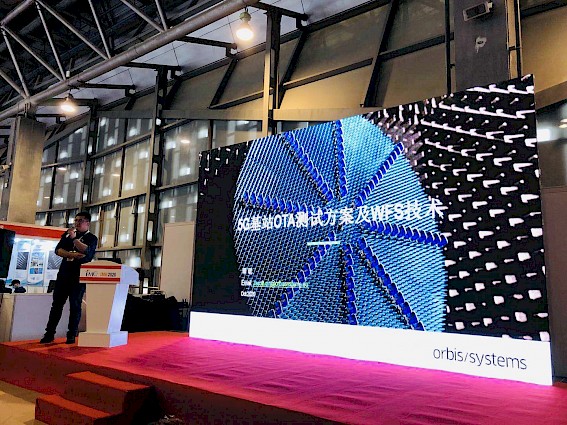 Orbis Systems dispatched its delegation to participate in the exhibition and forum to make itself better known within the industry and share its unique OTA solutions and WFS technology with the attendees.

The traditional IME Shanghai 2020, the China International Conference & Exhibition on Microwave and Antenna was held in the Shanghai World Expo Exhibition & Convention Center from October 27th to 29th, 2020. Developed for RF, Microwave, Millimeter Wave, Terahertz and Antenna industry, the event was attended by Orbis Systems' local delegation with the objective to present the company's product offering – including the unique WFS Plane Wave Generator launched globally last spring – to the attending audience.
Trending at IME 2020 Shanghai: 5G testing technologies
The overall atmosphere of the IME Shanghai 2020 event was extremely positive and forward-looking, especially considering the special circumstances of 2020, which have resulted in many of the leading industry events across the globe to be cancelled, postponed or converted into online events instead. Effects of the COVID-19 pandemic were still evident, as fewer people and even fewer foreigners attended the event this time. Still, the overall atmosphere was warm and numerous RF & Microwave and 5G manufacturers participated in the exhibition, covering components, devices, materials, test & measurement equipment, and software products for design and simulation. In addition to the exhibitions, there were also various technical forums, lectures and discussions available.
On-site exchanges at IME 2020 Shanghai were quite enthusiastic and the most discussed topics included the following:
Future applications, devices, and 5G test & measurement technologies
5G field test, millimeter-wave components and miniaturized antenna
5G OTA test solutions


Orbis Systems' delegation delighted to participate in the largest Microwave and Antenna industry event in China
As the largest and most influential Microwave and Antenna exhibition in China, IME 2020 Shanghai naturally provided a great platform for trade promotion, technical exchanges and new business co-operation and Orbis Systems' delegation was pleased to present both the company and its WFS and OTA test solutions through speeches and discussions with exhibition visitors. The main benefits of attending the event thus included the opportunity to promote the company and its products, increasing awareness on the company brand, meeting new suppliers and potential customers and learning about the development of the entire industry and new technologies within it.

For more information about our solutions, please contact us here!