27.04.2021
Orbis Systems Is ISO 9001:2015 Recertified with Zero Nonconformances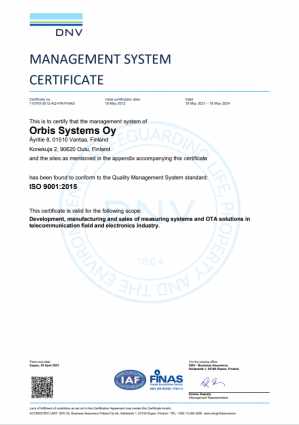 Initially certified in 2012, Orbis Systems' Finnish operations renewed its quality management ISO 9001:2015certification obtaining a zero nonconformance issues result in the recertification audit.
Orbis Systems is pleased to announce that the company's operations in Finland successfully passed the recertification audit of its ISO 9001:2015 standard, demonstrating a continued commitment to delivering high quality products and services as well as consistently developing its processes. The scope of the certification includes development, manufacturing and sales of measuring systems and OTA solutions in telecommunications and electronics industries. The ISO 9001 standard is based on seven specific quality management principles, such as strong customer focus, the motivation and implication of top management, the process approach and continual improvement. In addition to Finland, Orbis Systems' operations in China and India, Beijing Orbis Electronics CO, LTD and Orbis India, are also ISO 9001 certified.
Zero Nonconformances Detected in Recertification Audit
In order to get ISO 9001 certified, a company needs to set up and implement a quality management system that is in accordance with the principles of the latest ISO 9001 standard and pass an audit performed by a Certified Body (CB or Registrar) that assesses the performance of that quality management system against the latest ISO 9001 standard. At the recent two-day ISO 9001:2015 recertification audit Orbis Systems not only passed, but obtained a zero nonconformance issues result, much to the delight of the company's management. "We are extremely proud of the entire Orbis Systems team for their unwavering customer focus and deep commitment in the continuous development of our operations", states Chief Operating Officer Tuomo Tolonen. "Obtaining ISO 9001:2015 recertification with zero nonconformance findings is also a clear sign that as a company, we are proceeding in the right direction and continuously improving against our self-set objectives", he says.

The ISO 9001:2015 certificate is available for download in PDF format in English and in Finnish.

Learn more about Orbis Systems' global operations, company history, mission and values as well as key competencies here.